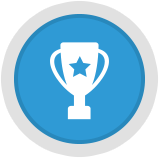 We exist solely to help schools and district leaders make great decisions that benefit their staff, students, and communities.
That's our company purpose. It's to help administrators like you get access to different perspectives and resources to help inform and guide your decision-making. Improving student's college and career readiness is hard work, but what if you could use the lessons of others to make your decision easier? Our approach has withstood the test of time. Today, more than 25,000 students annually rely on our analytical approach to improving college and career readiness.
Our students outperfom their peers.